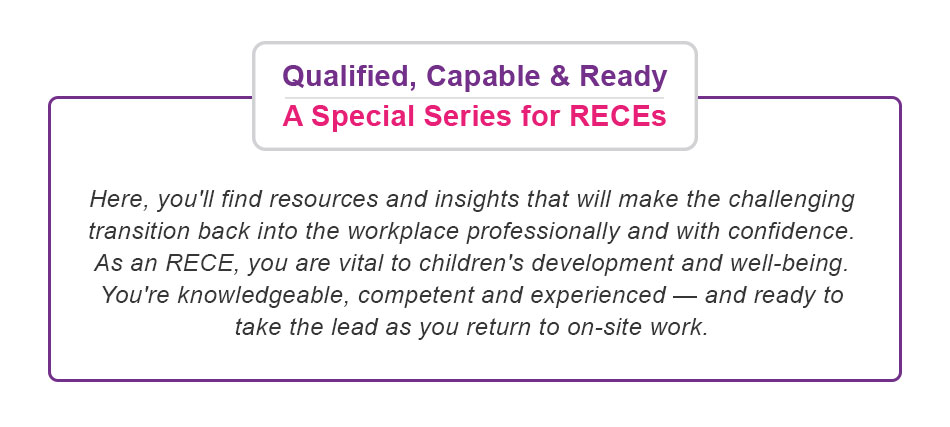 We recently sat down with two registered professionals in mental health to talk about about the best ways to look after yourself as you return to the learning environment. Their ideas may improve your capacity to provide the highest quality education and care.
Meet Kelly and Nadine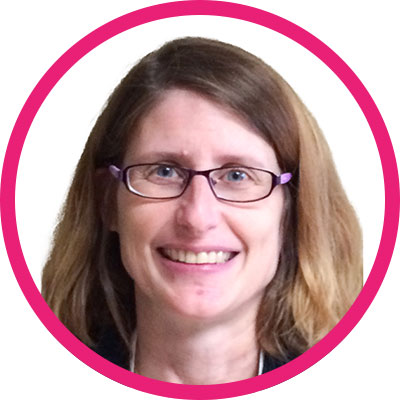 Kelly Falconer, MSW, RSW | I'm the Manager of Immediate and Brief Services with the Canadian Mental Health Association's Niagara branch. I oversee crisis services. I also provide support to the Justice Team who works with individuals with mental illness who are going through the court system. As well, I help our mental health coaches who support individuals using YWCA services or Start Me Up Niagara. I'm proud to have worked in the mental health field for more than 20 years.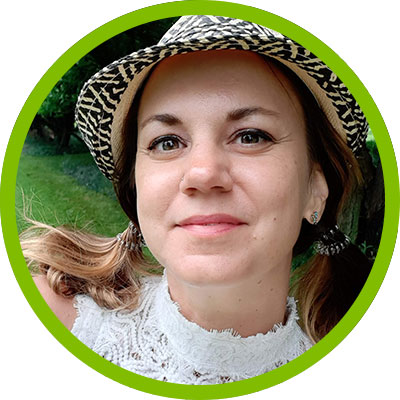 Nadine Furbacher RP, MACP, BBA | I'm a registered psychotherapist. I've worked in counselling, social work and mental health for 14-plus years. My background is in community mental health and university settings. Recently, I launched my own practice (Willow Rock Wellness). My focus is on helping adults in support and service professions. I strive to improve client well-being – be it with mood, shifting negative patterns or fostering deep healing. I offer a collaborative and supportive therapeutic approach to sustaining mental well-being.
As many of you have made or are about to make the transition back into the learning environment, you may be experiencing stress or anxiety. As Dr. Jean Clinton said in her presentation, Understanding Children's Emotions in Extraordinary Times + How That Makes you Essential, it's important to "find your calm" in order to be able to support those in your care.
Q: What can educators do to lessen feelings of anxiety?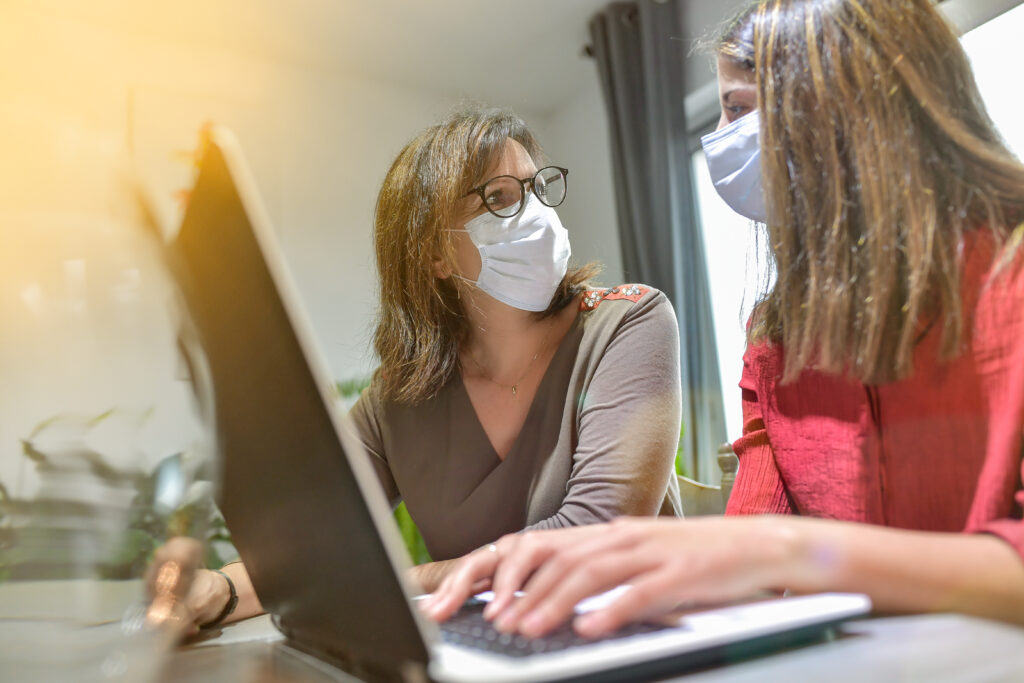 Nadine: Anxiety happens when the brain can't solve how to fully protect us from a perceived threat. It fires up our nervous system with painful, intrusive thoughts and feelings, which could mean that you – and parents, too – may be on high alert when returning to the physical learning environment. There's a great tool I use, called Plan Ahead, to help me and my clients manage anticipated anxiety.
Kelly: Feeling anxious is very common under the circumstances. You are not alone. Fortunately, child care settings are following public health guidelines, and your workplace should have safety measures in place. Remember that you have control over your workplace's safety measures in terms of your ability to follow them, such as frequent hand-washing, wearing personal protective equipment (PPE), screening and reporting.
Having regular open and honest communication with colleagues and your supervisor is another way to lessen anxiety. It's important to share your concerns and to listen to those of others. This can help create trust and confidence and increase comfort while reducing anxiety.
---
Plan Ahead to:
Learn – Facts reduce anxiety. Study the new safety protocols for yourself, your colleagues and the children and their families.
Rehearse – For a few moments, visualize living out a typical workday with these new protocols in place. How will each part look and feel to you? Notice when you come to a 'tender spot' — that top of mind, hypothetical situation that's causing you concern. Write these tender spots down for the next step.
Chill – Use cold water as it can cool the nerves. Prepare a few cold bottles to have on hand during work. Not only can you drink it, but you can also hold it on the back of your neck, on your wrists or in the creases of your elbows.
Breathe – Tender spots are inevitable, and now you know in what scenario they may arrive. Be ready with practiced paced breathing. It's a quick and discreet way to slow your central nervous system (also known as the anxiety maker). Count slowly while inhaling (one-two-three) and double exhale to a count of six. Repeat. Instead of counting, you could also mix it up with a pre-planned mantra that matches your breathing. For example, on an exhale, say "I am okay" or "This will be fine."
Create – Anxiety dislikes fun, so how great is it that RECEs already excel in creativity when it comes to play-based learning? As you're executing the new safety precautions, try and make them fun. Some examples include bright, colourful masks, writing a jingle on distancing or giving the hand sanitizer a fun character name.
---
What you can do if, all of a sudden, you become overwhelmed and are feeling extremely anxious or panicked: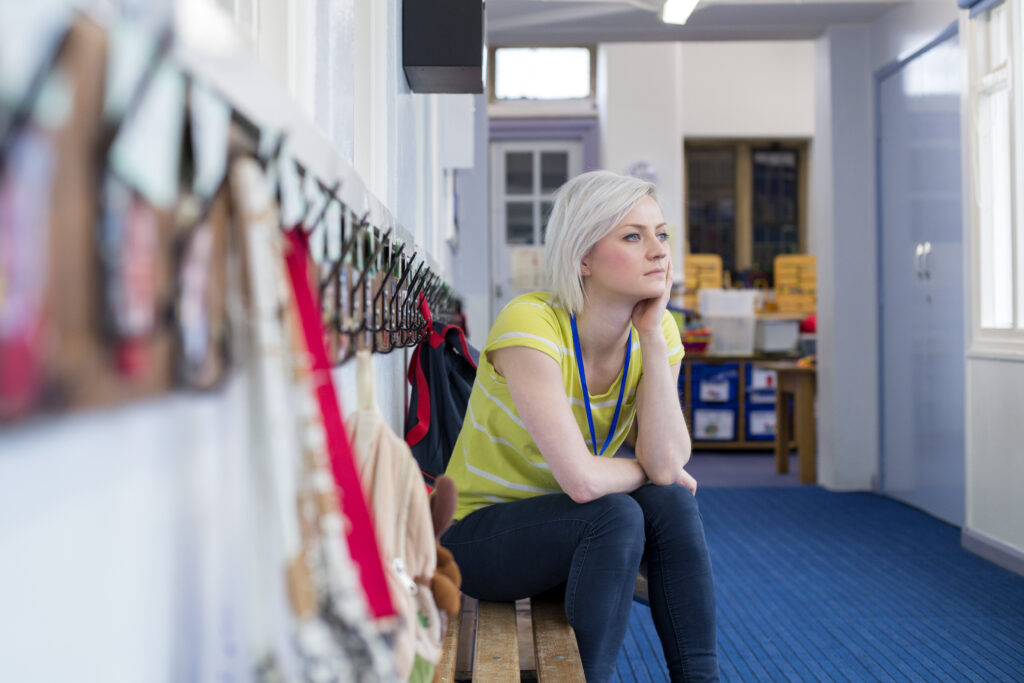 Kelly: First, take a deep breath and hold it for a few seconds before releasing. Remind yourself, and repeat it as you breathe deeply, "I'm okay, and I've got this" as it has a calming effect. From there, ask for help from a colleague, or review the policy around the situation that has brought about panicked or anxious feelings. The instructions in the policy are meant to keep you safe.
Nadine: Think of panic and the idea of overwhelmed as a burning building. The superhero to fight this burning building as it grows, is Mindfulness. Here are some practical steps to enact mindfulness:
Intentional thinking – "I'm feeling overwhelmed. It's uncomfortable and I'm managing it."
Paced breathing – inhale for counts of three, and exhales for counts of six.
Communicate – ask your colleagues for help.
Remember, communication is key: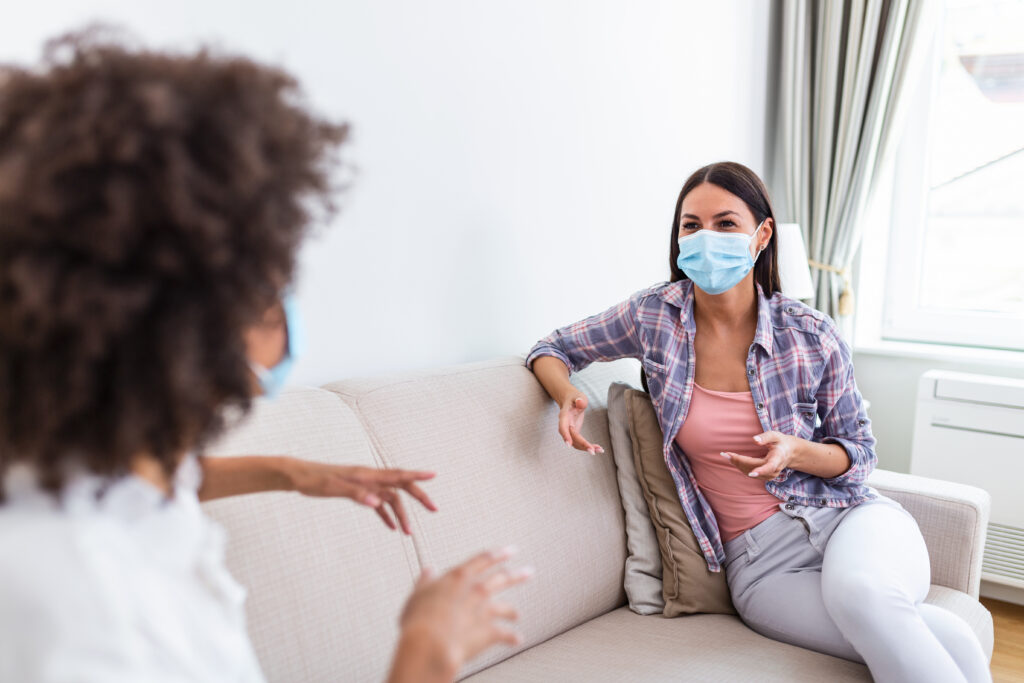 Nadine: Feelings are real and come from our unique life experiences, so no one can tell you that you're feeling differently than you truly are. An effective way to communicate is to be honest and use expressive statements about where you're at, and what you need – especially when you're feeling overwhelmed and need help. For example: "I feel overwhelmed when it's morning drop-off, because the children are coming in all at once and are upset their parents couldn't walk in with them to help comfort them. I need help to comfort many children at one time." You express what you're feeling and why, and have asked for what you need to reduce the feeling.
Remember to also listen to your colleagues. Sharing feelings and listening to colleagues contributes to the well-being of the overall team, and can help build a support network with those who have similar concerns. Sometimes, just knowing you're not alone can take some of the 'bite' out of feeling overwhelmed. Debriefing with colleagues after a stressful or hard experience can also help you feel connected to the team while reducing stress.
Kelly: As Nadine said, being open and honest about what is happening can help colleagues become aware of the situation. By not saying anything, those around you won't know what's happening and the situation (feeling stressed) is unlikely to improve. By expressing the situation that's causing anxiety or stress and asking for help, colleagues can listen, validate how you're feeling at the moment and ask how they can help you.
People don't know what they don't know, meaning that you often have to spell it out as people are busy with their own issues and activities, so make it clear when you need support.
Final Thoughts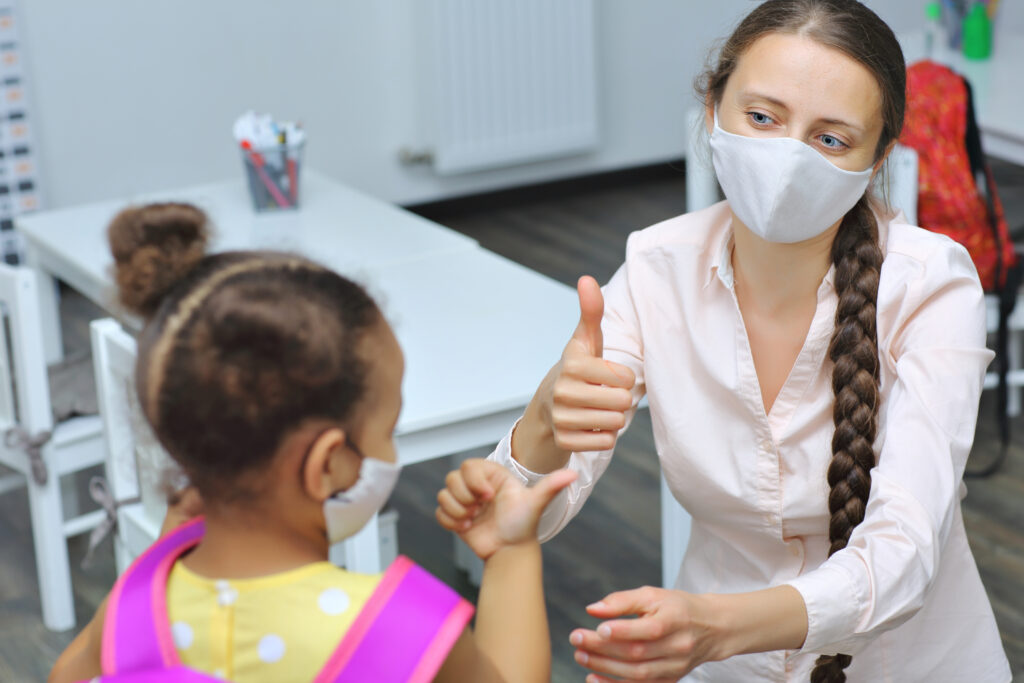 Kelly: For so many of us, work is an important part of our lives, so getting back to work has and will be helpful for a lot of us. The same goes for children – many will be excited to return. Feeling anxious is completely natural under the circumstances. However, as with many other changes we go through, we'll get used to it, we'll adjust, and it will get easier. Although we know there'll be some apprehension, remember that there are positives too: the return of a routine, having in-person social interactions, getting out of the house regularly and the stimulation of a learning environment that can't be experienced at home.
Nadine: I can't stress enough the importance of making your well-being a priority. So many will be feeling anxious, afraid and nervous, so making self-care a priority will be one thing you can do to feel in control as you work through this pandemic.
Mental health resources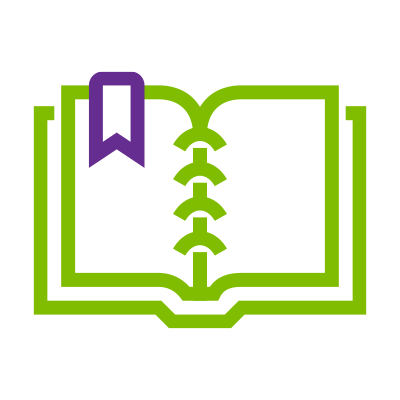 If you're looking for support for your own mental health and wellbeing, find your own local Canadian Mental Health Association.
ConnexOntario is also available to Ontario residents. They're a 24/7 service that provides information for those experiencing issues with substances, mental illness or gambling.
Bounceback Ontario's 10 things you can do right now to reduce anxiety, stress, worry related to COVID-19
Review The Importance of Early Childhood Educator Mental Health & Well-Being: A guide to supporting educators by Julie Ingriselli RECE and Kendra Schemp RECE