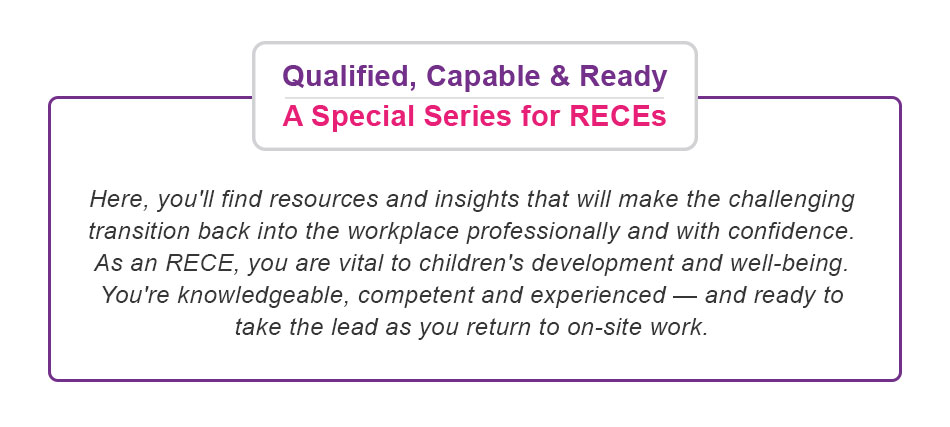 We recently spoke with three RECEs who work as child life specialists (CLSs). We asked them about their experience in caring for children in hospitals where personal protective equipment (PPE) has always been a regular part of their practice.
---
What are child life specialists? According to the Association of Child Life Professionals, "child life specialists help infants, children, youth and families cope with the stress and uncertainty of acute and chronic illness, injury, trauma, disability, loss and bereavement." These professionals "provide evidence-based, developmentally and psychologically appropriate interventions, including play, preparation for procedures and education to reduce fear, anxiety and pain."
---
Recognizing that some children, families and even RECEs may be anxious about the use of PPE, we asked these CLSs to share their best guidance on how to normalize its use in the learning environment. Here they are:
Julie Atkinson RECE: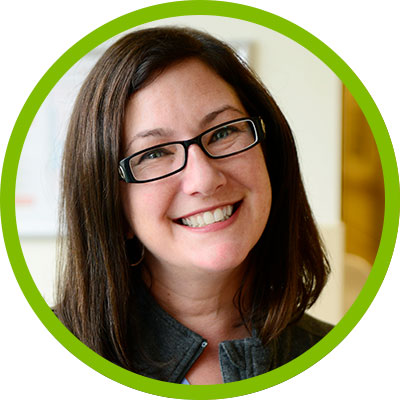 Julie works at Markham Stouffville Hospital, one of Ontario's leading community hospitals, with a five-bed paediatric unit serving Markham, Stouffville and Uxbridge. "On a regular day, I provide support to patients having surgical procedures, including private tours for families attending pre-operative appointments," says Julie.
Elana Ellison RECE: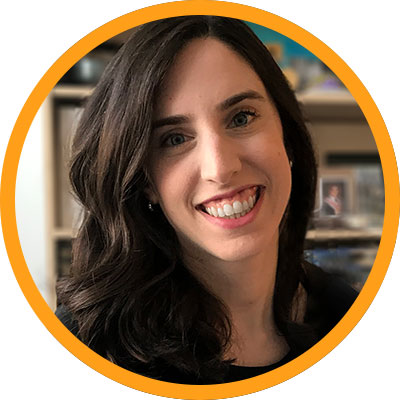 Elana works at Hamilton's McMaster Children's Hospital, which serves the Hamilton, Niagara, Haldimand and Brant regions. She typically works in the outpatient pain clinic, though is on maternity leave right now. Her role "involves play-based teaching about illness and psychosocial support for young people with chronic pain." She also supports families to help them understand the complex medical problems their children face.
Emily Synnott RECE: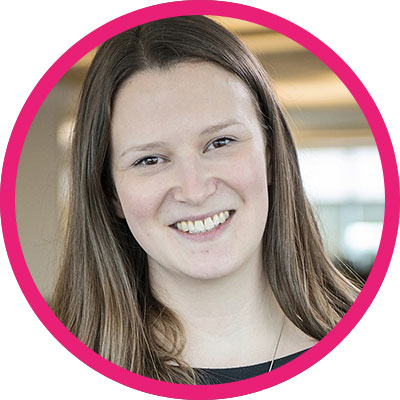 Emily works at Trillium Health Partners, serving the diverse populations of Mississauga and West Toronto. She's an integral part of the paediatric clinic that supports children with chronic illnesses. "We're working on an initiative where we try and make the protective equipment friendly to our young patients. We do this by creating buttons with faces on it so patients have an idea of what the person behind the mask looks like," says Emily.
PPE and the pandemic. Practical? Yes, but don't forget the fun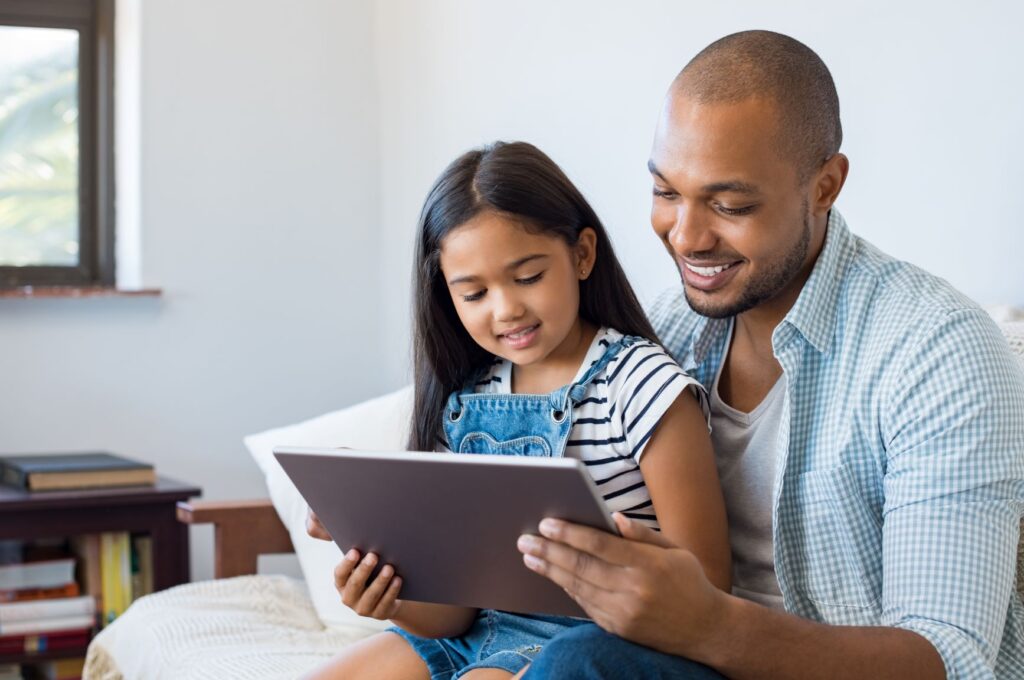 "Remember when, at one point, even gloves were new to practice?" Emily says. She believes it's helpful to talk about and explain the purpose of PPE. Emily suggests having colouring sheets available of characters in masks for children to decorate. Julie seconds the use of those colouring sheets or other forms of art and creative expression. "Get the children used to what they're seeing. They've been away from people, other than family, for months now," she says. While colouring sheets may not be part of inquiry and play-based learning, they can help normalize the use of PPE. You may also find other activities that fit into inquiry and play-based that help children get used to PPE.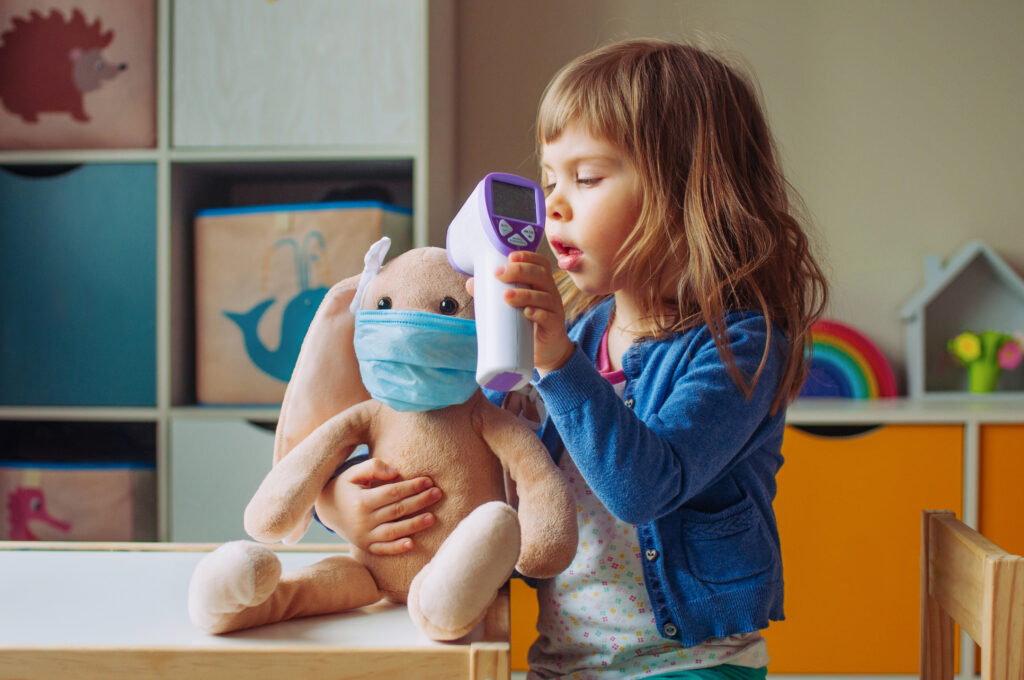 Elana believes the pandemic and the return to on-site work presents a superb opportunity to connect with children through play. She recommends using play to promote opportunities for expression of feelings. "Discuss what's going on with children to help them process the procedures and increased use of PPE. Encouraging open-ended play experiences will strengthen connections between children and will help them feel more grounded in their return to the learning environment."
Technology may also help with the transition back into the child care centre. Julie explains that "video calls with children and families, where you show them your face, then put on a mask and ask them to wear one as well, can help to normalize the experience."
"As an RECE, relationship building is fundamental to your practice", she says. "Find opportunities to connect with families in these new circumstances. Start the conversations before going back, if you can."
The three Cs that matter now: change, communication and connection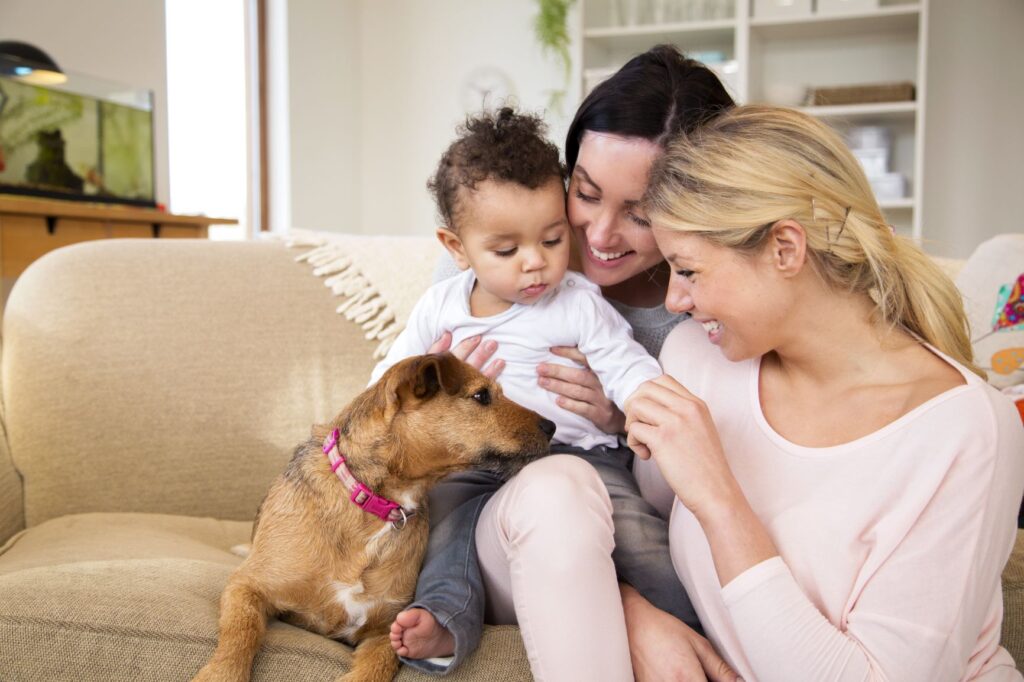 While change will be a constant for a while, Julie is sure that the children miss being in child care. "I can't even imagine how much the children miss you! While there will be uncertainty, there will be excitement in reconnecting, too."
Elana says that this is a good time to use rapport and caring to help children transition back into the environment. "The relationship, routine and structure that RECEs will provide, will be helpful to the transition and learning."
"Everyone needs to be on the same page as the rules have and will change – it's a bit of a roller coaster at times," says Julie. She adds that RECEs are collaborative and will be able to modify practice to meet the needs of children and families in their care. "RECEs are some of the most creative people I know."
Emily contends that children will be looking to you for cues on how to cope. If possible, engage in "silliness and play" to normalize things as much as possible, she suggests. "Do your best to take changes in stride. RECEs are great for helping children with transitions. Approach this as an opportunity for collaboration with colleagues and families. We can do this together," Emily says.
What are some ways to normalize personal protective equipment (PPE) in play?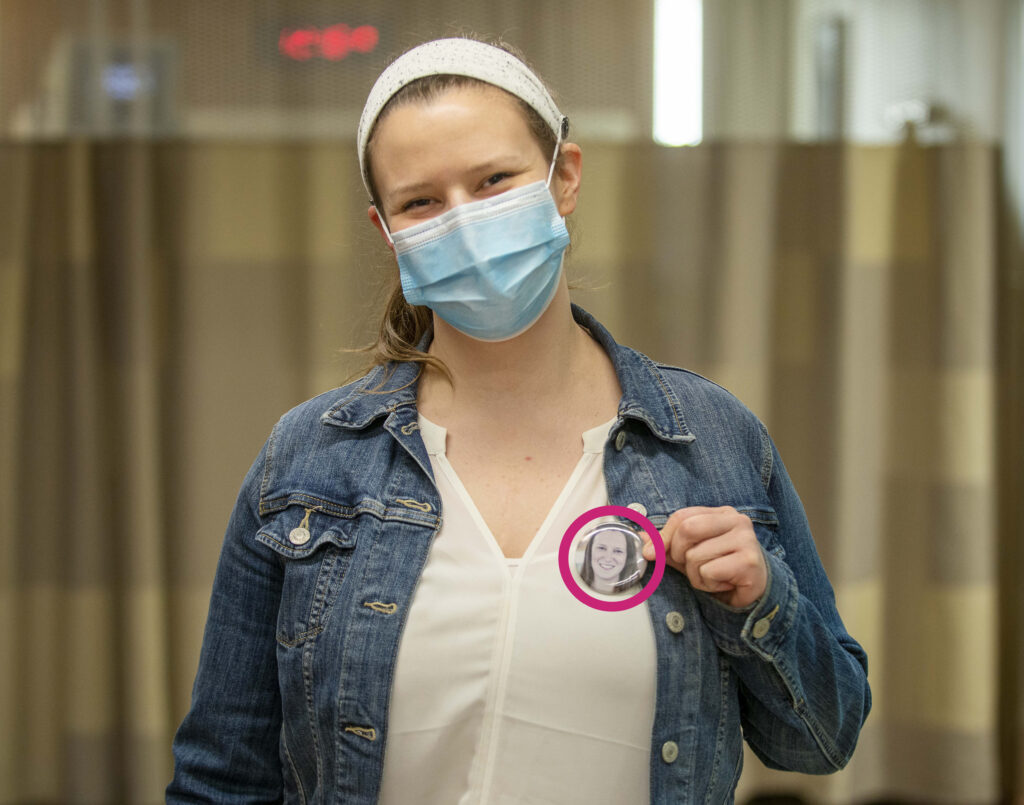 Suggestions:
Use puppets or dolls, either wearing masks or have the children design masks for them. Rehearse and practice by putting on the masks.
Wear a button with your face on it to show what you look like under the mask.
Have the children draw what they think you look like under the mask.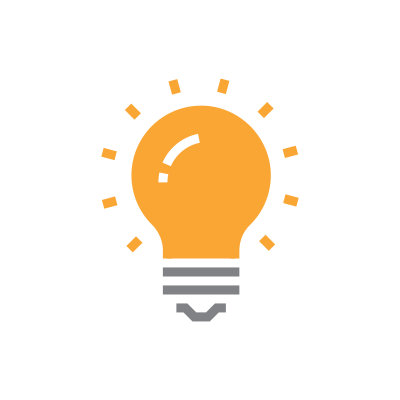 Looking for other ideas? Julie, Elana and Emily share additional resources that can help support the understanding and normalization of PPE.