October is Child Abuse Prevention Month, and, specifically on October 24th, many organizations across Ontario will be promoting the understanding that "[e]very child and youth has a right to safety and well-being". For Registered Early Childhood Educators (RECEs), that means ensuring you understand your legal obligations surrounding your duty to report.
Duty to report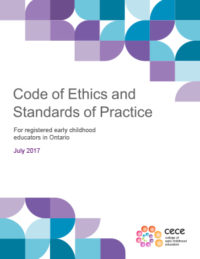 Standard VI in the Code of Ethics and Standards of Practice (Code and Standards) outlines your obligations, due to your unique position, to recognize and report possible signs of child abuse, neglect and family violence. In compliance with the Child, Youth and Family Services Act (CYFSA), should you have suspicions related to child abuse or neglect, you have a duty to report it to the Children's Aid Society.
The College's Professional Advisory: Duty to Report, and the accompanying Reflection Guide, can help further your understanding of your reporting obligations. For the safety of the children in your care, it is your responsibility to review these resources and understand their implications in your practice. Reporting suspicions is part of your ongoing commitment to children and the profession.
Who is a child in need of protection?
A child in need of protection is defined by the CYFSA as one who has suffered or is at risk of suffering certain types of harm.
The College's Professional Advisory defines the various types of harm for which a child may be at risk. The advisory also outlines the implications of reporting and the consequences of not reporting under the CYFSA.
What to do if you suspect a child is at risk of harm
The Reflection Guide, which accompanies the Professional Advisory, answers specific questions surrounding reporting that can help further your understanding of your duty to report.
Here's an example:
Who do I tell first: my supervisor or the Children's Aid Society?
Your obligation is to report your suspicion(s) to the Children's Aid Society. If your employer has a policy where you're required to speak to your supervisor first, know that legislation, such as the CYFSA and the Code and Standards prevail, which means you can go straight to CAS with your concern(s). Ultimately, your supervisor cannot stop you from calling CAS if you believe a child is at risk of harm.
The consequences of failing to report
Failing to report suspicions of child abuse can have serious implications for your practice as an RECE, not to mention placing children at serious risk of harm. In the rare instances where a member has been found to have failed in their duty to report, the College's Discipline Committee has imposed significant suspensions, coursework and ongoing monitoring of the member's practice through mentorship. The Committee has described the duty to report as a critical element of the professional responsibility of all members to protect the safety of children in care.
Make it part of your learning
The resources listed above can assist you in strengthening your understanding and your confidence in knowing when it is your duty to report any suspicions that a child is at risk of harm.
As a College member, you're required to engage in Continuous Professional Learning (CPL) as knowledge within the sector of early childhood education is always evolving. If you're unsure of some of the requirements or consequences around your reporting obligations, you can make it one of your CPL goals as it is an essential part of your role as an RECE.
For additional information, visit:
Ontario Association of Children's Aid Societies
Ministry of Children, Community and Social Services