When you enter the profession as members of the College, it's an exciting time but it can also be overwhelming. There is paperwork to navigate, as well as new work environments and processes to learn. You also have to become familiar with the College's website including practice resources and My College Account – that only members like you can access.
You can login to My College Account by going through the College's website.

Dive into key features of My College Account
Continuous Professional Learning Tab
Newly registered members must complete the Expectations for Practice Module and the Sexual Abuse Prevention Program within their first year of joining the College.
The Expectation for Practice Module is accessible from the College website, and the Sexual Abuse Prevention Program can be found by clicking on the Continuous Professional Learning Tab in My College Account.
You can use the CPL Cycle Details table in My College Account to keep track of your past and current CPL Program requirements.
If you need to defer your CPL Program requirements due to a relevant extenuating circumstance (i.e., parental leave, illness, disability, bereavement, personal hardship), submit a request for deferral with supporting documentation through My College Account. You would be notified within 30 days of your submission about whether the request for deferral has been approved or denied.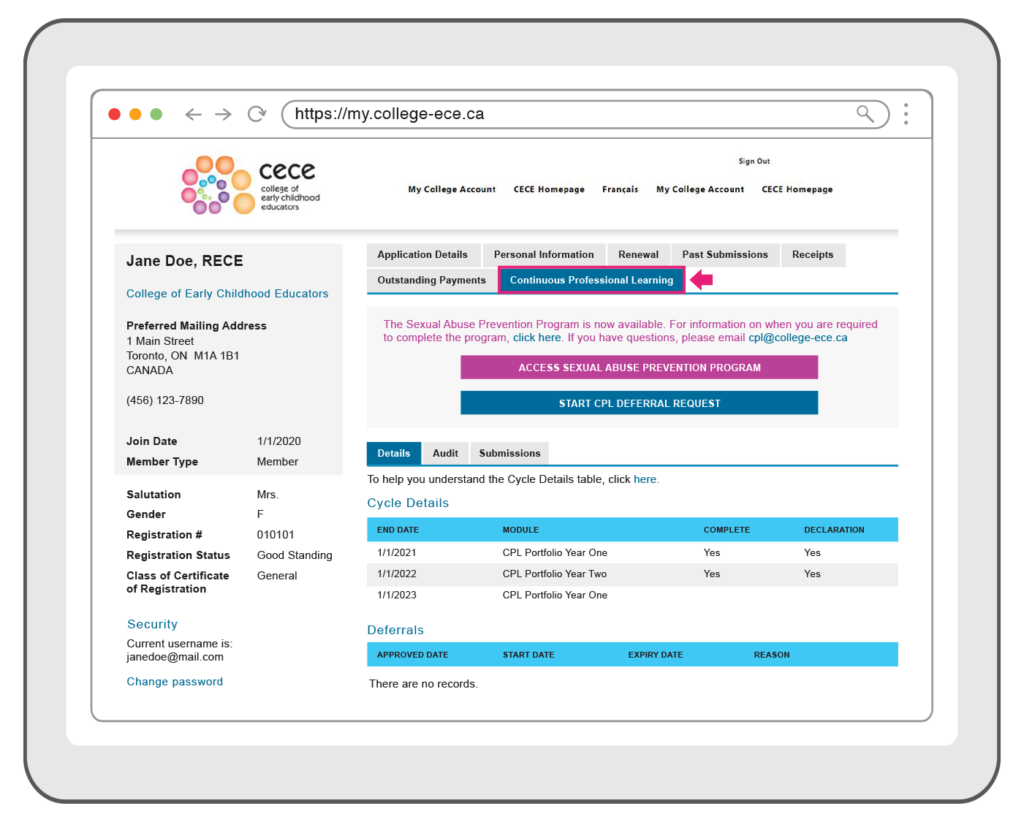 Renewal of Membership Registration
You are required to renew your membership annually. Two months before the renewal is due, you will get a courtesy reminder email prompting to renew your membership. You can log into My College Account to complete and submit the renewal form. We have a membership renewal map and tips here.
You can also access your past renewal submissions in My College Account.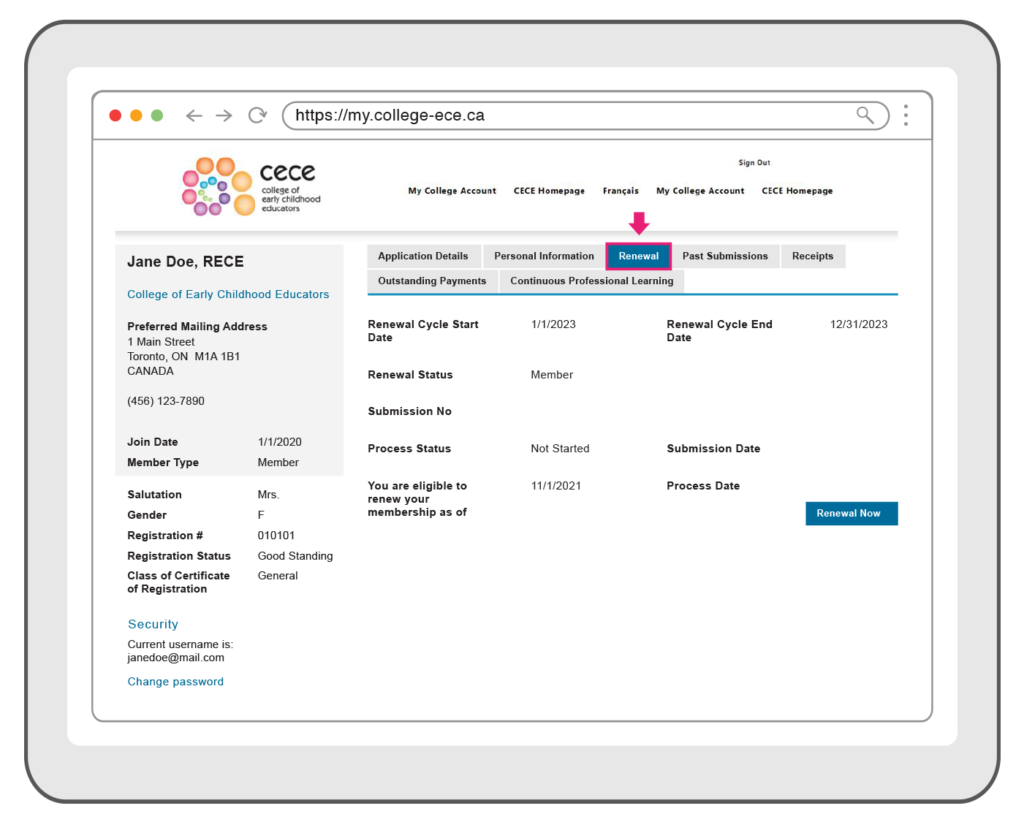 Keep Information with the College Updated
As a member, you have a professional responsibility to inform the College whenever any of your information on file has changed. Changes must be reported to the College within 30 days of the effective date of change.
You can easily update your contact information and residential address with the College. Clicking the pencil icon in the corner allows you to edit your information. It's important to keep your contact information with the College up to date since it's that's the primary way for the College to keep in touch with you.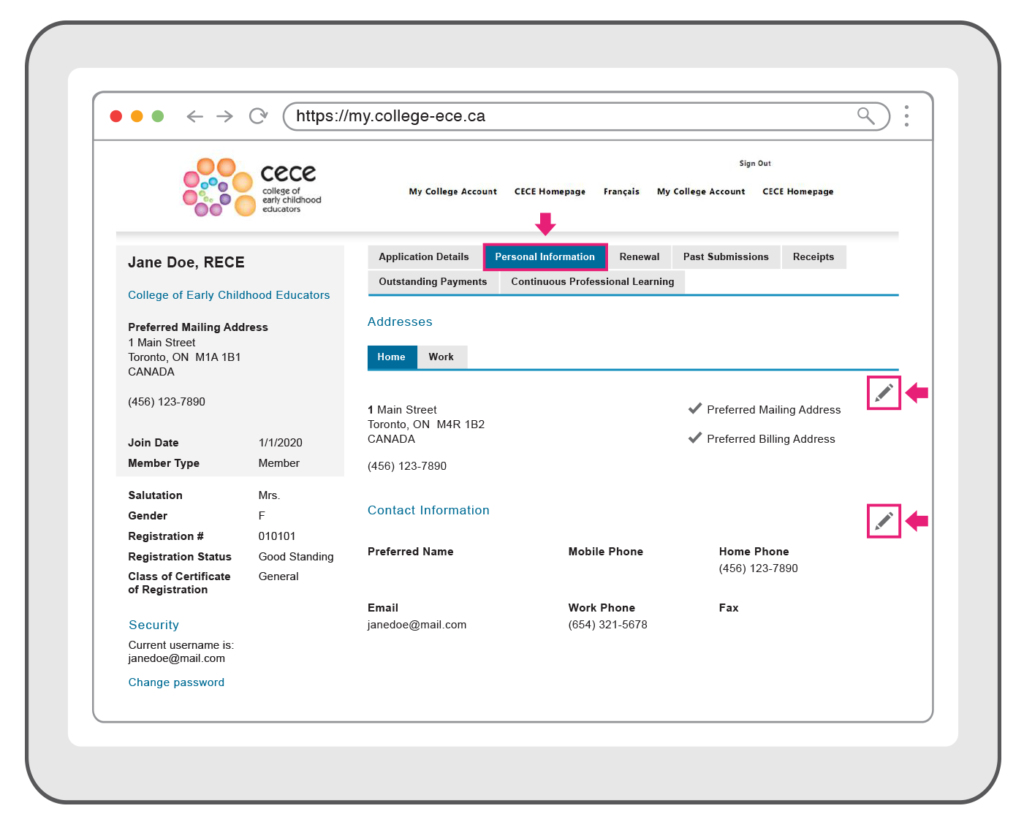 It's always best practice to match the login email for My College Account and preferred email the College uses for email communication.  If you would like to update your login information, you have to submit a Change of Information  form since the changes need to be processed through the College. Changing email information through My College Account only updates your preferred email for communication purposes.
To update your employment information in the Work tab, you need to complete a Change of Information form or make the change upon renewal. Changes to the employer information cannot be made through the My College Account.
Membership Payment Receipts
If you're looking for your membership payment receipts, go to the "Receipts" tab and you will have access to all your receipts from the past.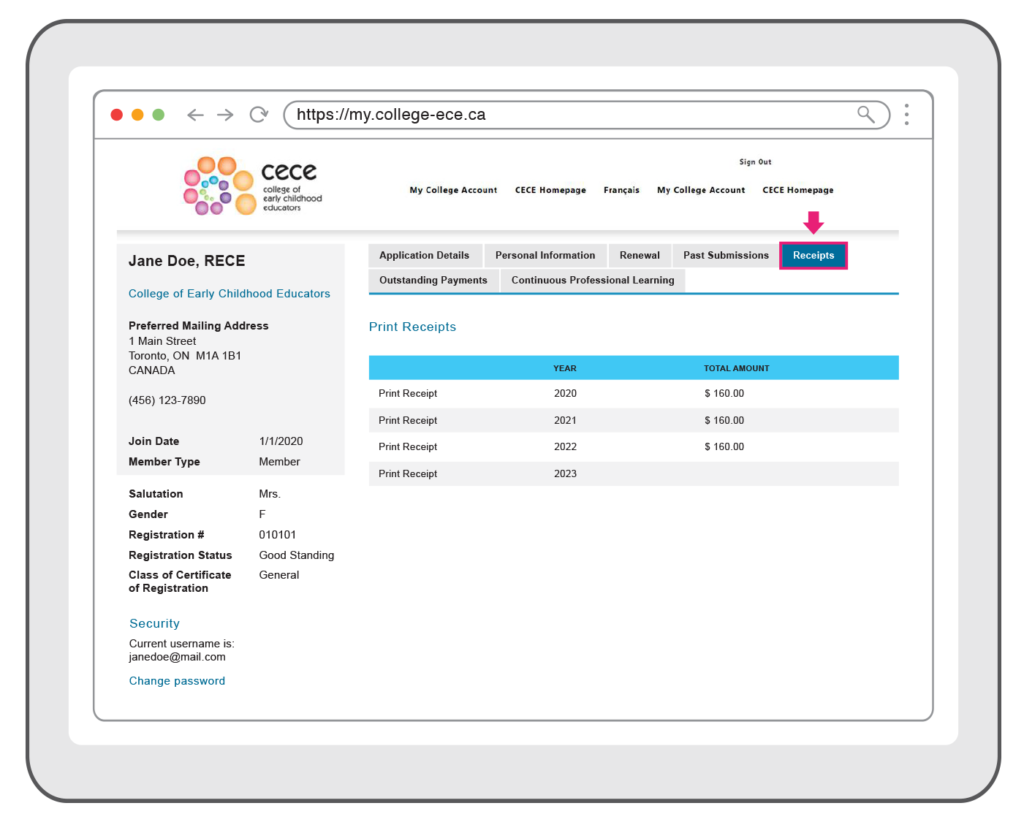 If you have any other questions or require any support in using My College Account, please contact the College at [email protected]