The Centres of Excellence for Early Years and Child Care (the Centres) have a mandate to build learning networks in Ontario for communities, educators, children and families.
The Centres work to transform learning in Ontario across three areas:
The Indigenous Centre of Excellence, co-led by the Aboriginal Head Start Association and Kenjgewin Teg, seeks ways to bring Indigenous worldviews into professional practice.
The Francophone Centre of Excellence, co-led by l'Association francophone à l'éducation des services à l'enfance de l'Ontario (AFÉSEO) et le Collège Boréal, fosters francophone identity, pedagogy, professionalism and leadership.
The Provincial Centre of Excellence, co-led by Western University and the Association for Early Childhood Educators Ontario (AECEO), creates a network of pedagogists to support early childhood educators across Ontario to develop pedagogies that respond to current times.
The Centres connect with licensed child care providers and agencies, EarlyON Child and Family Centre providers, authorized recreation providers, home child care, and special needs resourcing agencies. They also engage with municipalities, local school boards, First Nations, Métis and Inuit communities, professional learning organizations and the College of Early Childhood Educators on matters related to the child care sector. The Secretariat for the Centres of Excellence for Early Years and Child Care (Secretariat) unites the three Centres.
The College connected with two of the Centres to ask them about early learning and care practices.
Can you describe the significance of the natural world and outdoor exploration for children's learning, sense of belonging, expression, engagement and well-being?
The Indigenous Centre of Excellence
Indigenous knowledge, skills and development are interconnected with all of creation. We explore our identity, relationship and position within the natural world through our connection to the land, sky, water, air and animals. It is through those connections that we begin to discover our identities, gifts, abilities and knowledges, and our roles within our communities on a journey of life-long learning.
The graphic below interlaces all ways of being; we consider each of these principles as elements, goals and expectations that work together.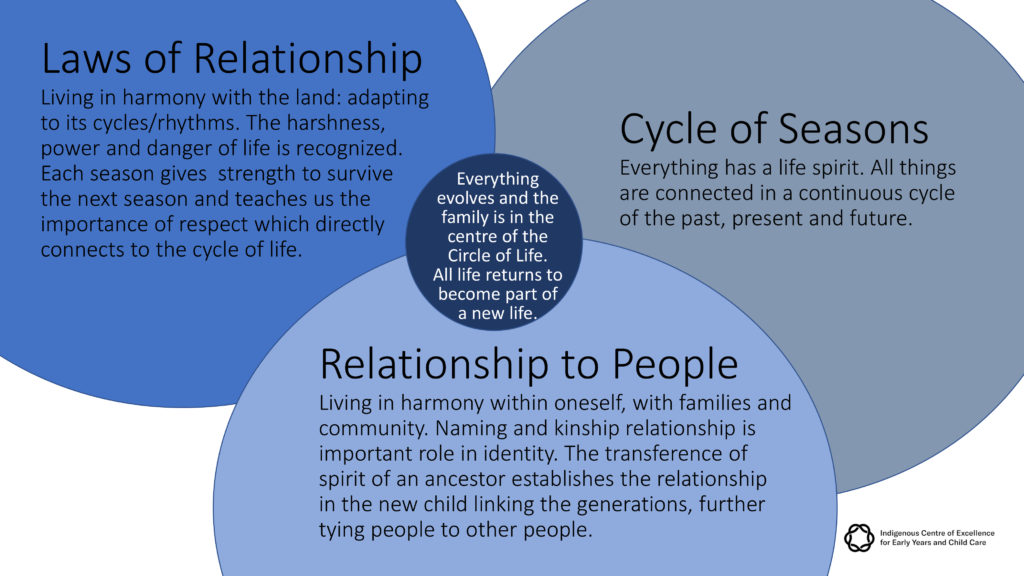 The Francophone Centre of Excellence
For children to have a sense of belonging, they need an environment that is rich in linguistic and cultural experiences where a healthy relationship with the culture is nurtured and they're enabled to contribute to their cultural identity.
Outdoor experiences promote the development of a meaningful relationship with the natural world, through which they learn to value and respect nature, contributing to the healthy development of their ecological identity. They're also able to form important connections and contributions to the world around them, supporting their sense of belonging, well-being, expression and engagement.
Through play and exploration of the natural world, they learn to be more collaborative, more resilient and more empathetic: dispositions that will help them become lifelong learners.
How can using pedagogical documentation make children's learning visible and support professional practices?
The Indigenous Centre of Excellence
We utilize pedagogical documentation to support the story-telling of our children. Documentation highlights children's truth, their voice and their relationship to all of creation. As professionals, this documentation can provoke us to consider how we meaningfully support the unfolding of children's discovery and knowledge about the world.
The Francophone Centre of Excellence
Pedagogical documentation helps us deepen our understanding of children's ways of learning, their ideas, their ways of thinking, their competencies, their dispositions and their way of interpreting and relating to the world around them. From a francophone viewpoint, pedagogical documentation can also help us see how children relate to their language and culture and how they express themselves, providing a window into the development of children's cultural identity.
As we interpret and make children's thinking and learning visible, we can consider possibilities to extend and enrich children's experiences by reflecting on what we've observed and documented.
Interested in connecting with the Centres?
If you're interested in inviting the Centres to deliver a presentation, please contact the Secretariat at SecCoE@uwo.ca to coordinate.
For any other inquiries about a specific centre or the work they're doing to transform learning, please contact: